Fears over Hull's rail links ahead of City of Culture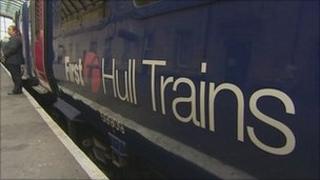 There are calls for better transport links to Hull ahead of the UK City of Culture celebrations in 2017.
Pressure is mounting on the government to support the electrification of the Hull to Selby rail line, which would speed up train services in and out of the city.
First Hull Trains has submitted a £94m proposal which could see the electrification of the route by 2017.
The operator says it has secured private finance to upgrade the 35-mile stretch of line between Hull and the Temple Hirst junction near Selby.
The proposed improvements would ultimately create a fully-electrified Trans-Pennine route between Liverpool and Hull and could shave up to 30 minutes off the typical journey time from Hull to London.
Electrification would also connect East Yorkshire to the proposed HS2 link between London and Leeds via Birmingham.
First Hull Trains managing director Will Dunnett said: "To electrify a route from Selby across to Liverpool, but to miss out that final chunk, makes no economic sense."
MP support
A cross-party group of MPs from Hull and East Yorkshire has backed the proposal.
Hull saw off competition from Dundee, Leicester and Swansea Bay to win the title UK City of Culture 2017.
The year will include a number of high-profile events, which are expected to bring thousands of visitors to the city.
As part of its role as UK City of Culture 2013, Derry-Londonderry hosted the Turner Prize and many would like Hull to host other ceremonies in 2017 such as the BRITs and Man Booker Prize.
Hull councillor Martin Mancey, whose portfolio includes transport, said: "Network Rail's current programme would not bring electrification to the city until at least 2019, which is clearly unacceptable."
The Department for Transport said: "This government already has hugely ambitious plans for electrification, with a commitment to deliver 900 miles by 2019, compared with the last government which managed a mile a year.
"We are currently discussing the possibility of electrifying the Hull to Selby route with Hull Trains."
A task force will report to the Transport Secretary within 12 months on further rail electrification schemes across northern England.