Worthing 'elves' believe they have broken world record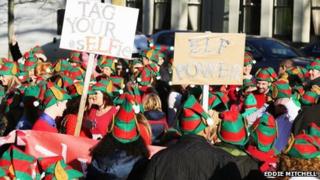 Hundreds of "elves" who gathered in a West Sussex town centre believe they have broken a world record.
Organiser Robert Luff said 1,276 were counted in Worthing earlier which, if confirmed, will beat the record by more than 500.
The last record was set in Ammanford, Carmarthenshire, last year when a crowd of 762 elves got together.
Money was being raised at the Worthing event for charities St Barnabas Hospice and Chestnut Tree Children's Centre.
Local firms donated elf hats and ears to people who registered for the gathering in Steyne Gardens.
The rules stated that all people attending had to wear red or green tops.
Guinness World Records has confirmed the current record stands at 762.
But comments posted on the organisation's site state there has been another gathering since then of 1,110 in Wetherby, North Yorkshire.
And in 2011, the BBC reported that more than 900 of Santa's helpers had come together in Bridgend.
No-one at Guinness World Records was available to comment.