Bestival coach crash: Mother 'disappointed' at tyre ban delay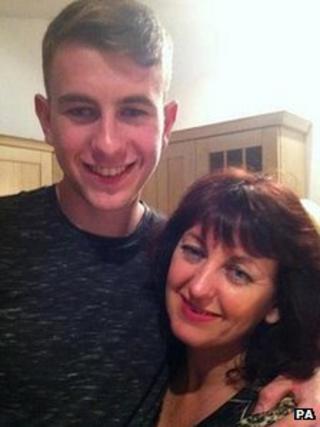 The mother of a Liverpool musician killed in a coach crash said she is "extremely disappointed" the government will not act sooner to ban the use of old tyres on vehicles.
Michael Molloy, 18, died when a 19-year-old tyre blew out on the return trip from a music festival.
His mother Frances Molloy wants a change in the law to prevent the use of tyres above a certain age.
But the Department for Transport (DfT) said "further research" was needed.
Mrs Molloy and Liverpool Garston MP Maria Eagle met Transport Secretary Patrick McLoughlin last month to lobby for new legislation.
They called for "tyres over six years not to be fitted and those over 10 years scrapped regardless of outward condition."
However, a DfT spokesman said it had not supported an outright ban on old tyres because "there is no firm research worldwide linking tyre failure to age."
"It is more likely to be the condition of the tyre and how often it is used," he said.
'Abnormally old'
"I'm exceptionally disappointed," said Mrs Molloy.
"The evidence is old tyres do blow and when they do it's catastrophic because they unravel from within."
An inquest held in July heard the abnormally old tyre blew causing the coach to veer on to an embankment and crash into a tree.
Driver Colin Daulby, 63, and passengers Kerry Ogden, 23, and Mr Molloy, were killed in the accident on the A3 in Surrey on 10 September 2012.
The coach, which was operated by Merseypride Travel, was full of friends who had left the north west for the festival five days earlier.
Surrey coroner Richard Travers recorded an accidental death verdict saying the "catastrophic failure" of the 19-and-a-half-year-old tyre had caused the accident and wrote to the government to express his concerns.
The DfT spokesman said Mr McLoughlin had asked his officials "to urge vehicle operators to check the age of tyres they use, particularly at the front of the vehicle where a failure can have far greater consequences".
A public inquiry will be held by the traffic commissioner on 16 December.