Pinkney and Bond: 'Dangerous career criminals' jailed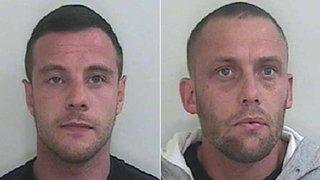 A man who admitted conspiracy to commit two robberies after crashing a stolen car, has been jailed.
Michael Bond, 31, of Manchester, was sentenced to 10 years and eight months for his part in a robbery at a newsagent, Preston Crown Court heard.
Robert Pinkney, 31, from Salford was jailed for six years and eight months for robbery.
Bond planned to commit another robbery in Lancashire but he was arrested after he stole a car in the West Midlands.
This led to a police pursuit when he failed to stop for officers in Birmingham.
It ended when Bond crashed into a central reservation area and hit three police cars.
Det Sgt Mark Riley said: "Bond drove at excessive speed placing innocent members of the public at risk."
Brett Gerrity, crown advocate for the Crown Prosecution Service North West, said: "Both of these men were part of a Manchester-based organised crime gang which targeted cash in transit vans in the North West and further afield.
"Two dangerous career criminals have been brought to justice and the public protected from their violent actions," he added.