Environment Agency adds to fish stocks in South East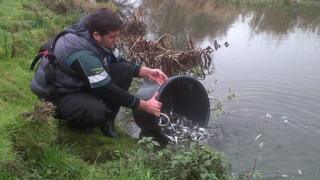 Hundreds of fish have been released into waterways in Oxfordshire and Berkshire in a bid to boost their long-term numbers.
Five-hundred roach and tench have been released into Adderbury Lakes in Oxfordshire.
Some 1,000 crucian carp have also been introduced into Ufton Pond, Berkshire.
It is part of a project which has seen 15,000 18-month-old fish introduced into water bodies across the South East, the Environment Agency said.
"The majority of the fish have been introduced into waters where fisheries officers have completed enhancement works to improve the habitat for native fish populations," said John Sutton, fisheries team leader.
"Fish have also been released into waters which have suffered fish mortalities as a result of pollution incidents."
The fish have been specially bred at the agency's fish farm near Nottingham, which produced 500,000 fish last year.
The Environment Agency carries out more than 500 fish stockings transfers every year.