South West agricultural labour shortage fears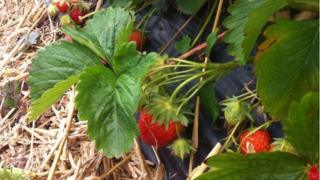 Members of the horticultural industry in the South West fear labour shortages when Romania and Bulgaria become full members of the EU next year.
A scheme allowing labourers from outside the EU to work on farms has been scrapped by the government.
Growers in Devon and Cornwall say if those currently working on the land leave for jobs elsewhere they will be hard to replace.
The Home Office said it wanted to encourage more recruitment from the UK.
For the past 10 years, Romanians and Bulgarians have been employed on farms as pickers under the Seasonal Agricultural Workers Scheme (Saws), which allowed them to work for six months.
But when both countries become full members of the EU, they will be allowed to work in any British sector.
In Cornwall and Devon, more than 1,000 Romanians and Bulgarians work seasonally under the scheme.
James Hosking, from Fentongollan flower farm in Cornwall, said before Saws was introduced the biggest problem for local growers was recruiting a sufficient number of pickers.
"It's a scheme that's worked extremely well," he told BBC News, adding that the decision to scrap it "probably wasn't the right one".
"We think it's a short-sighted move," he said.
"In two or three year's time, we'll be back to where we were 10 years ago when we were all screaming that we couldn't get enough labour."
'Hands and enthusiasm'
However, the Home Office said there was little evidence the supply of seasonal labour would decline.
Romanians and Bulgarians account for about a third of the UK's seasonal farm workers.
The National Farmers' Union (NFU) said scrapping Saws would cause long term damage to the sector.
It add that if the government was serious about securing all seasonal labour from the UK and the EU, it would have to ensure "all of the barriers to doing so were removed".
"That means more government assistance for the recruitment of UK or domestic labour," spokesman Anthony Snell added.
Jeremy Best, who runs a small fruit garden in Newquay, said he also had concerns about recruiting British labour.
"I can't get enough. The sad reality is that the majority don't want to get their hands dirty," he said.
"If I visit the job centre and say I need 10 workers, nine of them turn out to be reluctant.
"Many British students are brilliant, but there are some who really don't want to be here because they have 'issues' about working outside, working hard or even starting work on time.
"I'm not a social worker, I'm a fruit farmer."
Mr Best said during the fruit season - which for him runs from May until November - about 60% of pickers come from the Czech Republic, although during the summer months about 80% are students from the UK.
"Nationality, colour, creed and gender really doesn't matter to me - I need pairs of hands and enthusiasm," he added.