Didcot power station transformer moved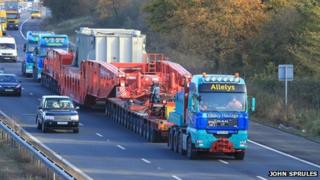 Traffic was delayed as the third transformer from a decommissioned power station was moved from Oxfordshire to Bristol.
The 637-tonne load, measuring 294ft (89m) long, began its weekend journey from Didcot power station to Avonmouth Docks at 19:00 GMT on Friday.
Police said the escorted convoy would "effectively close" the southbound A34 from Didcot to the M4 junction 13.
During the move it travelled at a maximum of 10mph.
The load, which was straddling two lanes, was expected to stop for the night on A420, close to junction 18 of the M4, before continuing to the docks on Sunday morning.
The final move was due to take place last weekend but operator Npower said there was a problem with the transporter lorry.
After its arrival in Bristol, the transformer will be transported by sea to a Siemens plant in Germany.
Didcot power station was disconnected from the National Grid in March after 43 years of service.