More than 700 tax jobs in Bootle, Preston and Salford' at risk'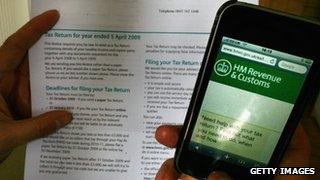 More than 700 jobs are under threat in three tax offices in north-west England, the Public and Commercial Services (PCS) union has said.
Consultation has begun with staff in Bootle, Merseyside, Preston in Lancashire and in Salford.
HM Revenue and Customs (HMRC) is deciding whether 3,900 fixed-term contracts across the UK should be terminated when they end in March 2014.
HMRC could not confirm how many jobs would go in each area.
'Deeply saddened'
Staff who work in the personal tax directorate centres, where administrators help ensure people do not pay too much tax, are facing redundancy, the PCS said.
Up to 321 staff in The Triad site in Bootle are at risk and up to 273 jobs could be axed in Trinity Bridge House, Salford.
The union said up to 110 posts were under threat at the Unicentre office in Preston.
Vicki Searle from the PCS said: "We are deeply saddened and angry that so many of our members have found out they could lose their jobs at the end of March.
"This anger is compounded by the fact that the work will still be there, long after our members have been made redundant."
HMRC said it could not confirm how many fixed-term jobs would be affected in each area until it had "worked out where and how many" staff could be extended.
It said the contracts were temporary fixed-term appointments for a "set period of time".
The HMRC spokeswoman added:‬ "We also confirmed our intention to extend up to 1,000 of these 3,900 staff beyond March 2014, and we are working through the detail of where and for how long these extensions will be offered."