UKIP: What's the price of Paul Sykes' millions?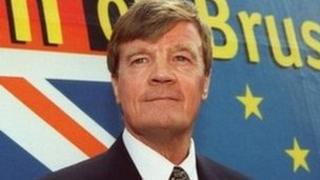 Yorkshire businessman Paul Sykes has made it clear he will not be content as a mere sleeping partner in a deal which sees him pledging millions to UKIP's campaign for next year's European elections.
Speaking to me at his home near Ripon the businessman revealed he can be as ruthless with his political investments as he has been in his spectacular rise from a scrapyard in his native Barnsley to a £650m fortune from property and IT businesses.
It was a warning that will not be lost on UKIP leader Nigel Farage.
"Me and Nigel work well together. He's articulate and he's learned a lot," the blunt-speaking Sykes told me. "But remember I binned Nigel once before in 2004."
'You've got some cranks'
In the 2004 European elections UKIP made its major breakthrough when the fiercely anti-EU businessman backed it for the first time.
The campaign he financed led to the party increasing the number of its seats four-fold, from three to 12
But Sykes told me he snapped his purse shut without a qualm after seeing exactly who had been elected. He says he did not mince his words when he told the then party leadership: "You've got some cranks, you're finished."
Nigel Farage, already an MEP, did not become leader until 2006 but even his famous charm could not convince the businessman that the "cranks" had been cleared out until recently.
"Its different now," Sykes told me. "He's got different people. Stuart Wheeler, treasurer; he's got some really good sharp lads; offices in Mayfair, and he's done a brilliant job."
UKIP's Bloomers
It did not escape Paul Sykes notice that Yorkshire's infamous MEP Godfrey Bloom was part of that new intake of 2004.
His renewed backing for UKIP has come just weeks after Bloom decided to sit as an independent in the European Parliament.
The increasingly eccentric MEP really had no choice. The party was fed up with his behaviour routinely grabbing the headlines for all the wrong reasons.
Godfrey Bloom himself has always claimed that criticising UK aid to "Bongo Bongo Land" and calling women who did not clean behind the fridge "sluts" was a joke.
Nigel Farage was not smiling and, just as importantly, neither was Paul Sykes.