West Midlands Fire Service Academy to close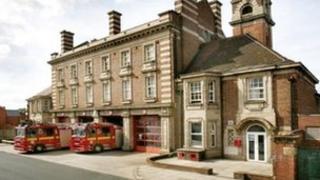 A fire service training academy, once regarded as a national centre of excellence, is to be closed.
The West Midlands Fire Service Academy, in Smethwick, once trained officers from forces across the country.
However, the authority said falling numbers of new recruits, combined with a need to cut costs, means the academy building will be sold or rented out.
But the Fire Brigades Union (FBU) said the loss could put the public "at risk".
'The bare bones'
The force purchased the building in 1992 but said it was now too expensive to maintain.
It plans to transfer its training to existing stations.
"We are having to make better use of our diminished resources," said John Edwards, authority chair.
"We also want to train our firefighters closer to home. Some of them have to travel quite a distance to be trained at the moment."
Mr Edwards said the service was losing £21m from its government grant until 2015 and "limited recruitment" meant the numbers using the academy had fallen dramatically.
He added the decision had been agreed unanimously by the authority which also plans to rebuild stations in Aston, Kings Norton, Coventry and Bickenhill.
Mr Edwards said the station in Coventry was much bigger than the force required, while he said the Aston building was "no longer fit for purpose".
The station plans are subject to public consultation.
Steve Price-Hunt, who chairs the West Midlands FBU, said the training base plans could lead to "inadequate training which could put the fire crews and the public at risk".
"We are already down to the bare bones and if these cuts continue, public and fire crews' safety will be at risk," he said.