Mental health patient deaths 'should force rethink'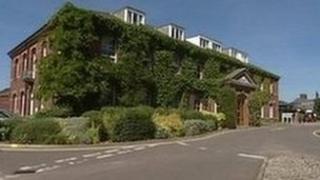 The unexpected deaths of 58 mental health patients in six months should force a trust to "rethink" budget cuts, campaigners say.
About 300 people fighting proposals to cut the Norfolk and Suffolk Foundation Trust budget by £20m over the next four years attended a meeting in Norwich.
Mental health senior social worker Terry Skyrme said the trust should review its strategy.
The trust said patient safety was its "priority".
It revealed earlier this month that there were 58 unexpected deaths between April and October.
Between April 2012 and March 2013 there were 88, while in 2011/12 there were 89.
Speaking after Monday's meeting, Mr Skyrme, who works for the trust's crisis team, said: "This number of unexplained deaths over the past few months should have made [the trust] rethink their strategy, you would have thought.
'Review every case'
"They say they're forced to make these cuts, but we'd question how they're doing it."
Ruth Turner, a clinical psychologist, added: "We do not want to stand and watch as the service crumbles around us. We're not at that point yet but with these cuts we could very easily get there."
Andrew Hopkins, the trust's acting chief executive, said "patient safety" was its "number one priority".
"We review every case by conducting an internal investigation, including liaising with the family or carer, the relevant clinical commissioning group, coroner and, in some cases, the police," he said.
"Only over the course of a year, as we fully understand the causes of death will we be able to see whether we are looking at a pattern."
The trust, which has a budget of £220m, has already made 41 staff redundant, 21 have left and 79 told to reapply for vacant jobs within the trust.
Health minister and North Norfolk MP Norman Lamb has said budget savings were being made by reorganising the provision of mental health services and cutting costs.