Maidstone prison disturbance prompts safety fears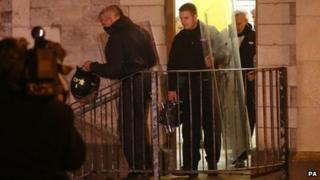 Further tension at a prison in Kent which saw a disturbance involving about 40 inmates could lead to further incidents, the Prison Officers Association (POA) has said.
Disorder broke out at Maidstone prison on Saturday, with fire and ambulance teams on standby at the scene.
About 25 prison officers held talks on Sunday amid fears over safety after 20 pool balls apparently went missing.
The Prison Service said all its jails ran a safe and secure regime.
'Repercussion fears'
Michael Rolfe, POA representative for the South East area, said: "It's very disturbing.
"Staff are obviously concerned about what's gone on and as a union we're very worried about our members going into this establishment and what the repercussions may be following on from Saturday."
He added: "From the information we've been receiving from our members and from our local committee here at Maidstone, there is ongoing tension around the prison which may lead to further incidents.
"There's a report that there may be up to 20 pool balls missing which could be used in an assault against members of staff."
The Prison Service said Saturday's incident was resolved without any damage to the wing, and without any injury to prisoners or staff.
It said all accommodation at the prison was back in use on Sunday.
A spokesman said: "All our prisons run a safe and secure regime and are staffed appropriately.
"We are currently introducing reforms to the prison system that will provide better value for taxpayers while protecting the public and improving the chances of prisoners being rehabilitated."
Until this summer, the Category C prison held a mix of foreign nationals and sex offenders, but since this summer has held only foreign nationals.
Emergency teams were called to the prison at 16:00 GMT on Saturday.
South East Coast Ambulance Service sent two "hazardous area response teams" in a supportive capacity and Kent Fire and Rescue Service was there on standby.
The Prison Service said the disturbance was resolved by 18:30 GMT.