George Lomas sued after carer Jayne Wakefield's hours were cut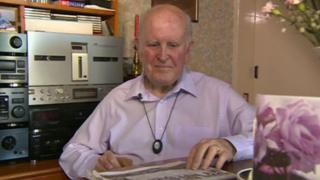 A widower from Cheshire has been ordered to pay £3,500 compensation to a carer who had her hours cut when his wife died.
Jayne Wakefield was paid for 30 hours a week to care for George Lomas, 77, from Scholar Green and his wife Rose, who had Parkinson's disease.
Mr Lomas reduced her weekly hours to 16 after Mrs Lomas, 76, died in March.
Mrs Wakefield was awarded damages after she sued him for constructive unfair dismissal and breach of contract.
She was originally paid using money from Cheshire East Council, which had funded Mrs Lomas's care package.
The council stopped the funding when she died so Mr Lomas agreed to pay Mrs Wakefield privately, which meant he was legally classed as her employer.
'Gutted' by decision
No details of the payments were put into writing.
Mrs Wakefield resigned after her hours were reduced to 16 a week by Mr Lomas.
Her claim for breach of contract and unfair dismissal was initially dismissed but Mrs Wakefield won her case on appeal at an employment tribunal in Birmingham.
Mr Lomas, from Congleton Road, said he was "gutted" by the decision.
He said: "I can't understand why the judgement went against me because I couldn't have insured against redundancy, which seems to be the stumbling block.
"How it's going to be paid, as yet, I just don't know."
Cheshire East Council said it was not liable for any claims as a result of the case.
Mrs Wakefield could not be reached for comment.