Eccles couple sentenced for trafficking servant girl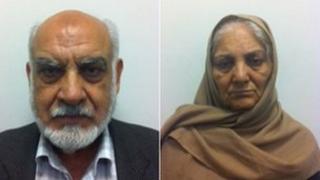 A couple who trafficked a 10-year-old girl to the UK who was repeatedly raped and kept as a servant for nearly a decade have been jailed.
Ilyas and Tallat Ashar brought the girl, who is deaf, from Pakistan and kept her at their home in Eccles, Salford, where she slept in the cellar.
Ilyas Ashar, 84, who was found guilty of 13 counts of rape, was jailed for 13 years at Manchester Crown Court.
Tallat Ashar, 68, convicted of benefit fraud and trafficking, got five years.
Police said the pair claimed thousands of pounds of benefits in the girl's name, while she was made to clean and cook at several houses belonging to the family.
The girl, now in her 20s, was found in the "sparse, cold and damp" cellar in 2009 by trading standards staff investigating allegations of illegal activity.
Ilyas Ashar was also found guilty of benefit fraud and trafficking.
'Unpleasant and manipulative'
Judge Peter Lakin, sentencing, said the couple had not shown any remorse.
He said: "You Ilyas Ashar and you Tallat Ashar did not treat this girl as a human being. To you she was merely an object to be used, abused and cast aside at will.
"You took full advantage of her extreme vulnerability. You exploited her physically, mentally and economically.
"There was throughout a distasteful undercurrent of violence and intimidation. All that she had in her life was the love of her family and her own human dignity - you two took that away from her, you consigned her to a life of misery and degradation."
He added: "You are deeply unpleasant, highly manipulative and dishonest people."
The victim was never paid for the work she did for the Ashar family and also never received a penny of the £36,045 in benefits they claimed for her.
The court heard a proceeds of crime hearing will be held next year to recoup the benefits stolen by the Ashars.
The couple's daughter, Faaiza Ashar, 46, was given a 12-month community order with 300 hours of unpaid work after she was also found guilty of benefit fraud.
'Miss Courageous'
The girl was often slapped or hit and would be dragged up the cellar stairs into the house if she did not come quickly enough when summoned, the court heard.
Details of the victim's ordeal only emerged after she was taught sign language, enabling her to be interviewed by police.
Peter Cadwallader, prosecuting, said an appropriate name would be "Miss Courageous" after she spent 34 days in total being cross-examined.
He said: "She is a remarkable young woman, a young woman with great fortitude, courage and extraordinary resilience, not only in coming to terms with the treatment she received at the hands of Mr and Mrs Ashar, but also the way she stood up in court."
The passport used to allow the girl into the UK claimed she was 20, and it was a matter of "mystery and concern" how immigration officials at Heathrow did not spot the difference in age, he said.
Those involved in her development since her discovery have described her progress like "a butterfly coming out of a chrysalis".