Thames Valley Police car crashes cost force £350,000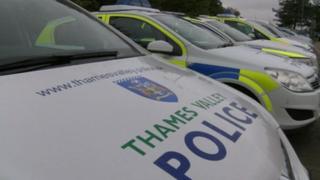 More than £350,000 was spent by Thames Valley Police repairing their vehicles following collisions last year.
Figures show the force was to blame for 466 crashes in 2012, more than half of those involving their vehicles.
But, it was at fault in a third fewer crashes compared with figures for the last five years, spending £216,000 less on repairs than in 2008.
Officers involved in collisions are subject to sanctions ranging from prosecution to retraining.
A Freedom of Information Act request by the BBC showed nearly 700 collisions have been recorded this year to date.
Ch Insp Henry Parsons, from the force's roads policing unit, said officers cover more than 27 million miles in the force's vehicles, as they respond to around 250,000 emergency calls every year.
Black box technology
He said: "We will take a look at this year's figures so far and try and understand why there's been an increase.
"If there are any deficiencies in training, we will address that."
Black box tracking technology and CCTV cameras are among the measures being introduced in a bid to reduce collisions.
"All collisions are recorded, from striking a kerb or an animal, to tactical contact where officers make a decision to end a pursuit," added Ch Insp Parsons.
"CCTV will allow us to capture evidence, but can also be used to improve our performance.
"The black box technology helps with vehicle tracking and allows us to review collisions when they occur and prevent them happening again."
The force confirmed two officers have been prosecuted for their involvement in collisions since 2010, both of them last year.
'Accidents matter'
One officer was convicted of dangerous driving and disqualified for 15 months and ordered to retake the driving test as well as being fined.
Another was convicted of careless driving, as well as failing to stop and report an accident. They were fined and points added to their driving licence.
Former Thames Valley chief constable Peter Neyroud, said: "These accidents matter a lot, particularly some of the serious ones.
"Every time those happen, either a policeman isn't getting to an emergency or a member of the public has become a victim of an accident that's caused by the police. That's not a good thing to happen."
But he added: "[The figures] tell a tale of progress over five years.
"It's a considerable reduction in costs.
"You're talking about several hundred thousand pounds being saved and that suggests that the management action being taken is working."
Thames Valley Police is the largest non-metropolitan police force in England.