Peter Broadbent: Funeral of ex-Wolves forward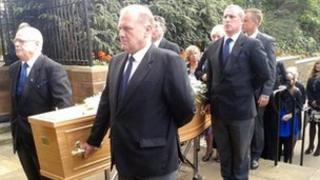 The funeral has been held for Wolves legend Peter Broadbent.
He scored 145 goals in 497 appearances for the Molineux side and helped them win the league title in 1954, 1958 and 1959 and the FA Cup in 1960.
On the club website, Wolves said Broadbent, who was in England's 1958 World Cup squad, was "regarded by many as the greatest ever to don the old gold and black".
His funeral was at St Peter's Collegiate Church in Wolverhampton.
The congregation included former Wolves players and supporters, some of whom were wearing black and gold scarves.
'Ballet on grass'
Among them was Peter Knowles who was a Wolves team-mate of Broadbent's in the 1960s.
He said: "He was a ballet dancer on grass. He had class, he made it look easy."
Former Wolves player Ron Flowers, who played in two championship-winning teams, described how he shared digs with Broadbent.
"His sense of fun became apparent early on," he told the more than 200 mourners in the church.
"Peter would imitate the parrot [at their digs] and was very good at it," he added.
He described Broadbent as "a great player and a gentleman".
Fan Leslie Holland, 81, said: "I remember him as a great footballer, the best I've ever seen.
"It was the way he went around opponents and beat them. It was as if he'd got the ball tied to his bootlaces."
The funeral service was led by the Reverend David Wright who said before the service it would be a "celebration of a great life and a great career".
"It's easy to celebrate him as a Wolves legend but it's important to remember a very special family man, husband, father and grandfather," he said.
He referred to other former Wolves players who had died recently: "Dave Wagstaffe, Barry Stobart, now Peter Broadbent - three body blows for the club for the city and most importantly three body blows for three families."
Broadbent won seven caps for England, scoring twice.
The honorary secretary of Wolves' former players association, Peter Creed, 82, said: "He was just a fantastic player and so modest.
"He was that good to keep his place all those years, that was when Wolves were the greatest team in the world.
"He was a lovely man, a brilliant golfer and a brilliant, caring family man."
Broadbent, who also played for Brentford, Shrewsbury, Aston Villa and Stockport, died at the age of 80 on 1 October.
He leaves a wife Shirley, two children Gary and Debbie, and four grandchildren.
The committal was held at Bushbury crematorium in the presence of family and invited guests.