Hamzah Khan death: Jury considers verdict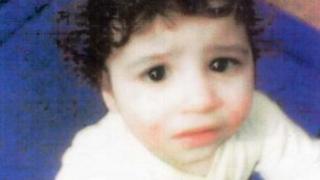 The jury in the trial of a mother-of-eight accused of starving her four-year-old son to death has retired to consider its verdict.
Amanda Hutton, 43, has denied the manslaughter of Hamzah Khan by gross negligence.
Her trial at Bradford Crown Court heard the boy died in December 2009 after being fed a "grossly inadequate" diet.
His mummified body was found in his cot at his home in Bradford, West Yorkshire, 21 months later.
The two-week trial has heard that Hamzah's body was found in the house in the Heaton area of the city in terrible squalor, where five other school-aged siblings were living.
'Harden your heart'
Ms Hutton has admitted a charge of child cruelty in respect of each of these children, who were aged between five and 13 in 2011.
The prosecution said Hamzah most probably died from malnutrition because Ms Hutton neglected him as she concentrated on her alcohol addiction.
They said she starved her son to death.
But Ms Hutton has told the court that she struggled to get her son to eat and he died suddenly.
Speaking to the jury before they retired, the Recorder of Bradford, Roger Thomas QC, said: "You wouldn't be human if you haven't had some reaction emotionally to the facts of this pretty dreadful case.
"But you've got to harden your heart here and look at it calmly and coolly."
The prosecution claim Ms Hutton was grossly negligent, either because she failed to feed Hamzah or she failed to get medical attention for him when he became ill.
Ms Hutton told the jury she never sought medical advice because she thought he was going through a phase and would grow out of it.
She said she panicked after his death and only kept claiming child benefit for Hamzah because she was worried that, if she stopped, his body would be discovered.
Ms Hutton claims the appalling conditions police officers found at her home when they finally searched the house only developed after her son's death.