Chester Zoo sees 'first Bell's anglehead lizard hatched in UK'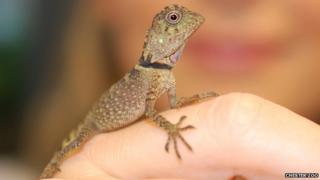 Chester Zoo has announced the hatching of a rare lizard, which it says is the first of its kind to be bred in the UK.
The Bell's anglehead lizard, which is native to Thailand, Malaysia and Indonesia, was unveiled at the zoo on Wednesday.
Keeper Ruth Smith said "very little" was known about the species and the hatching would allow the collection of "vital" data.
"To reptile experts, they are a complete mystery," she said.
Ms Smith said the lizards, which are also known as Bell's forest dragons, were classed as "data deficient" by the International Union for Conservation of Nature, meaning it is unknown how rare they are in the wild.
'Complex ways'
She said the species was a "real underdog" about which there was "hardly any reliable information" available.
"What we can be sure about is that this is the very first time the species has hatched in a zoo in the UK, and possibly even Europe," she said.
"Breeding these rare lizards gives us the opportunity to study the complex ways they reproduce, learn about the hatching process and monitor their development."
She added that the hatching had already shed new light on the species, as the keepers had discovered the lizard's incubation period was "between 151 and 155 days and they double in size in the month after they hatch".