Red Caps' families take legal action for public inquiry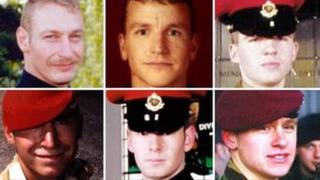 The families of four Royal Military Police NCOs killed by an Iraqi mob are to bring a Human Rights Act claim to try to force a public inquiry.
Their lawyer Simon McKay said they would also lodge a criminal complaint over allegations that some individuals at the MoD broke military law.
Two other army Red Caps also died the incident in Iraq in June 2003.
The MoD said the circumstances had been investigated extensively and a public inquiry would serve no purpose.
Corporals Russell Aston, 30, and Simon Miller, 21, and Lance Corporals Benjamin Hyde, 23, and Tom Keys, 20, were killed when a 400-strong mob descended on a police station in Majar al-Kabir.
'Murder'
Reg Keys from Solihull, father of L/Cpl Keys, said: "These soldiers' deaths have been brushed under the carpet. It is almost like the Ministry of Defence lost six pieces of hardware, not six lives.
"I understand and appreciate that soldiers lose their lives. But this, in my view, was totally avoidable."
John Miller, father of Cpl Miller, added: "It has been 10 years now and we still don't know what happened to our son. We know he was murdered but we don't know why it happened or what happened in the proceeding hours or days.
"Now we have the vehicle to launch what we see as a legal option to bring this out into the public domain. It is in the public's interest as well as our own."
Mike Aston, father of Cpl Aston, from Swadlincote, Derbyshire, concluded: "We want justice. They weren't killed in action, it was murder."
The families' legal move against the Ministry of Defence follows a landmark ruling at the UK Supreme Court in June.
'No practical purpose'
Mr McKay said: "The families have been seeking answers to questions for 10 years and they still haven't had them adequately answered.
"The High Court proceedings we will be issuing will be for the purpose of getting to the truth of what happened on June 24 2003 and the reasons why.
"For the avoidance of doubt, the families are not seeking compensation and there will be no claim against the legal aid fund."
He added: "Notwithstanding evidence existing that some members of the military may have been culpable in military law terms no investigation has ever taken place to explore this, and complaint has now been made with the appropriate body to invite them to now do so."
The other two Royal Military Police NCOs who died were Sgt Simon Hamilton-Jewell, 41, and Cpl Paul Long, 24.
In July, Mr McKay announced that the family of Cpl Aston had launched a legal claim alleging that commanders failed to take reasonable measures to keep him and his comrades safe.
The Supreme Court has ruled that damages claims can be launched under legislation covering negligence and human rights.
An MoD spokesman said: "Our thoughts remain with the families of those killed in this terrible incident.
"However, the circumstances have been investigated extensively and reported on and no practical purpose would be served by holding a public inquiry."