Barn owls see 'bad breeding season' in Devon and Cornwall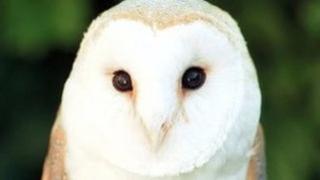 Barn owls across Devon and Cornwall have had a bad breeding season, with just 12% of monitored sites seeing nesting, a charity has said.
The Barn Owl Trust said monitoring of 73 sites in the two counties revealed the birds had nested at just one in eight sites checked.
Last year's washout summer and this year's cold spring were thought to be partially to blame, it said.
It added that if the trend continued the species would become more scarce.
'Dead in nest'
As well as seeing a decline in nesting, nests where pairs had managed to survive and breed, had an average of just two owlets rather than four or five needed for populations to recover, the trust said.
Trust spokesman David Ramden said the figures showed barn owls could not cope with extreme weather.
"In 2012, our hopes were high. Fantastic summer weather in March 2012 meant the owls started breeding earlier and, by late May, we were finding nests with as many as seven well-grown owlets," he said.
"Then in June it all went horribly wrong. The rain started and just didn't stop. This prevented the adults hunting and many young birds starved.
"In some cases we found entire broods of beautiful owlets dead in the nest."
Other barn groups have raised similar concerns.
The Shropshire Barn Owl Group said it would normally expect about 36 nests from 120 sites, but this year has only found four.
The West Sussex group has reported only five of the 90 sites having nests, compared to a normal figure of up to 55 nests.