Olympic sailor Sir Ben Ainslie's 'unofficial' gold postbox to stay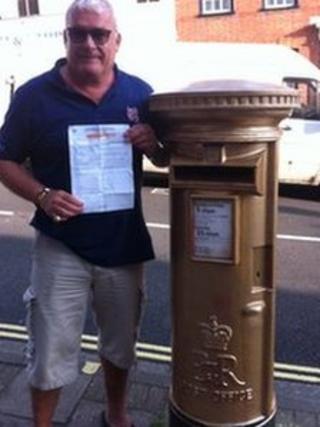 A postbox unofficially painted gold in honour of Sir Ben Ainslie's Olympic success is to stay forever.
Rob Smith was arrested after making his own tribute to the sailor, who lives in the Hampshire town of Lymington.
Royal Mail had earlier painted a postbox in Cornwall where Sir Ben grew up. It complained to police over the Hampshire paint-job.
It later dropped its objections and has confirmed it will stay gold like all 111 official postboxes across Britain.
'Vandalism'
It has also been given a new coat of paint by Royal Mail, as have the two other gold postboxes in Hampshire dedicated to Hamble cyclist Dani King and Alton equestrian Peter Charles.
Mr Smith was held by police for criminal damage following Sir Ben's fourth Olympic gold medal at the London Games.
Following a campaign and intervention from the sailor himself, police later said they would be taking no further action after Royal Mail's complaint of "vandalism" was withdrawn.
Sir Ben has lived in the Hampshire coastal town for 12 years and is an honorary life member of the Royal Lymington Yacht Club.
Royal Mail honoured gold medallists by painting postboxes in their hometown and will look after their maintenance in the future.