Ceremony marks Yorkshire Regiment battalion merger
25 July 2013

From the section

England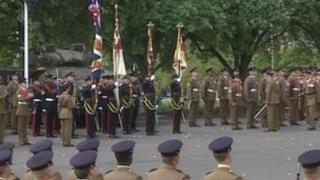 Soldiers from the Yorkshire Regiment have taken part in a ceremony to mark the merger of its three battalions into two as part of Army cuts.
The 2nd Battalion the Yorkshire Regiment, formerly the Green Howards, has been absorbed by the other two.
The ceremony at the unit's base in Warminster, Wiltshire, was overseen by the Duke of York.
Lt Col Zac Stenning, commanding officer of the Yorkshire Regiment, said there would be "very little change".
The Yorkshire Regiment, which was formed in 2006, consists of three regular Army infantry battalions and one Territorial Army infantry battalion.
Under the restructuring review, known as Army 2020, the 3rd battalion has been renumbered the 1st, the 1st has become the 2nd and the 2nd battalion has disappeared.
Lt Col Stenning said: "The equipment stays the same, we stay in these wonderful barracks in this great town so focusing on the constants there is very little change.
"What we've got is a fully manned battalion ready to go forward."