M25 roadworks 'disrupt Tandridge rubbish collections'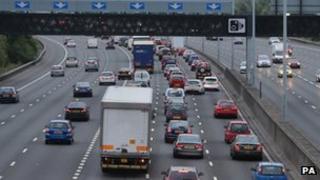 M25 roadworks and waste plant delays have been blamed for disrupted rubbish collections in part of Surrey.
Tandridge council has apologised for delayed collections and said its contractor Biffa has faced some issues.
Work to widen the M25 and several accidents had delayed lorries, and delays at Dunbrik waste plant in Kent had created problems, the council said.
The Highways Agency said it regretted any inconvenience caused.
Biffa, and Sita which runs Dunbrik, have not yet commented.
Councillor Tony Elias, chairman of Tandridge council's community services committee, said most collections were being made on time but the authority was apologising to anyone who had experienced delays.
"We are working with Biffa to get collections back on track as soon as possible," he said.
He said recycling and waste lorries had first been delayed on the motorway and had then met further delays at Dunbrik, where waste is unloaded, and there had also been vehicle breakdowns.
Those delays had meant crews were unable to finish collections on the day because drivers were not legally allowed to drive for more than 10 hours, he added.
'Uncollected food waste'
Mr Elias said Tandridge council and Biffa were trying to find a temporary alternative site and were in discussions with Surrey County Council.
He said food waste not collected on the right day should not cause a problem because the outside green food waste caddies were designed to lock to help prevent flies getting in.
In a statement, the Highways Agency said: "We regret any inconvenience caused by ongoing work to increase capacity along the M25 between junctions 5 and 7.
"Once the work is completed, road users along this section of the M25 will benefit from reduced congestion and smoother traffic flow.
"The work has been very carefully planned to minimise disruption, and we do all we can to clear up incidents as quickly as possible, including working with emergency services where appropriate.
"We have been liaising with Tandridge District Council about this scheme and will discuss this particular issue with them as part of our ongoing discussions."
Residents have also been advised by the council that using compostable bags for food waste or using newspaper to line bins should also help.
The M25 is being widened between Redhill in Surrey and Sevenoaks in Kent and the central reservation barrier is currently being replaced with the whole scheme due to be completed by Spring 2015, according to the Highways Agency website.
This story was amended on 29 July following clarification of who runs Dunbrik waste plant.