UKIP leader Nigel Farage rallies the east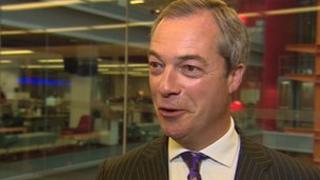 UK Independence Party leader Nigel Farage still can't believe how well his party did in May's elections - particularly in the east.
"To get 26.2% across the eastern region was just astonishing. I knew things were going well and I'd hoped we might make around 20%, but the east way exceeded my expectations," he says.
He was speaking during his first visit to the east since the local elections, to address his party's regional summer conference in Colchester; a region where UKIP now has notable representation on several county councils.
"It's been a big growing-up experience for us as a party but in the main, the UKIP groups are working together as a team. They're respecting their leaders and we're getting some proper debate going on, so I'm pleased," he observes.
What he's not so pleased about are the negative headlines which a handful of his councillors have generated.
So big was the party's success in May, it hadn't vetted all its candidates. The party has been forced to suspend a councillor in Cambridgeshire over allegations of benefit fraud, another in Norfolk resigned after admitting shoplifting (long before he became a councillor) while a further police investigation for alleged electoral fraud is ongoing in the county.
"I'm a realist," says Mr Farage. "We are always going to get some people who were not wholly suitable, who we would not necessarily have chosen and that's a fact of life but if people step beyond the line we will get rid of them."
"In every company, in fact in every family, you get the odd black sheep. What I'm not going to do is hide from this and pretend that everyone in UKIP is perfect and all the other parties are ghastly. This is something all political parties face but this is numerically a tiny number of people."
Properly vetted
Those attending the conference were not going to let a few controversies distract them. All their talk was about next year's European and local elections and the 2015 general election and how well they expect to do.
Party director and Mayor of Ramsay in Cambridgeshire, Lisa Duffy, told the delegates the party was "on a roll" picking up support not just from Conservatives but "from old traditional Labour voters who feel they have been left behind, as well as people who have never voted before".
She said the party would need to raise between £2m and £3m to fund next year's election campaign. The party is in the process of choosing its candidates for the elections and it stresses they will all be properly vetted.
The UKIP strategy is to build on its local government base, come first in next year's European elections and then use those successes as a springboard to get MPs into Westminster in 2015.
Already it has chosen 34 out of the 55 candidates it will need in the east to fight the general election.
Recent opinion polls suggest support for the party has waned since May and the other main parties are still maintaining privately that UKIP will never make the big time.
But Mr Farage is buoyed by his party's continuing success. "We are now the people driving the political debate in this country," he told the conference.
"Our job is to prove the political class wrong".