Skegness tourists 'put off' by railway work in Nottingham
20 July 2013

From the section

England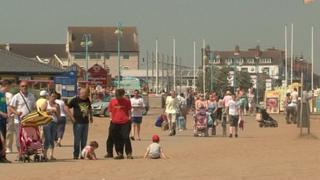 Families from Nottingham will be put off from visiting Skegness over the summer holidays because of planned work to the railways, officials have said.
Train services between the two stations will be affected for 10 days in July and August as part of £100m of improvements around Nottingham.
Business leaders said the work could not come at a worse time - especially with the recent good weather.
But, train bosses said there was no reason for people to be put off.
'Commuters more important'
Services which normally go between Nottingham and Skegness will start and terminate at Grantham while work is done, but people will be able to catch buses to and from Grantham.
Tony Tye, from the Skegness Chamber of Commerce, said: "We are worried because we've had six fairly bad summers on the trot.
"This year we've got the sunshine we've been waiting for and we are concerned that people are not going to get here."
He added that while he appreciated the work had to be done - the timing was very bad for the East Coast.
He said: "This is a business decision - they've decided that commuters are more important than visitors to seaside resorts."
Skegness attracts more than four million visitors each year, generating £480m for the local economy.
David Horne, managing director of East Midlands Trains, said there was no reason for people not to travel.
He said: "If you are going to Skegness, the only weekend when trains are not running is the first one in August - all the other weekends are running as normal.
"We are providing extra carriages and we are running more trains then we did last year."
The rail company said summer was the best time to do the work.
The work will take place between 20 July and 26 August 2013.