Suffragette badge recovered after Customs mix-up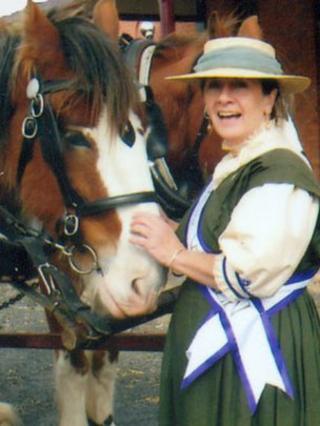 Suffragette memorabilia held up on entry to the UK after being sent from Australia is to be returned after an exhibition in Surrey.
The silver badge is a replica of one given to Australian-born suffragette Muriel Matters but in May the Border Force was not happy with the paperwork.
It was later collected by a curator and added to the exhibition in Ewell.
The badge will be collected in person by Australian MP Frances Bedford when the exhibition ends next weekend.
The Border Force said the badge was wrongly labelled by the sender, and Ms Bedford said the mix-up had been a mistake by an office worker.
"You wonder how it ever got to that point," she said.
"It is a replica, not an antiquity and has no value as such - only about 30 dollars of silver.
"I am going to wear it out of the country."
'Re-establishing interest'
Ms Bedford is due to arrive in the UK on Friday on a pre-planned visit where she will give talks about Ms Matters, with the first at Bourne Hall in Ewell.
The original badge was given to Ms Matters to mark the time she spent in Holloway prison during the militant campaign for women's suffrage in the early 1900s.
The Muriel Matters Society works to raise the profile of the suffragette, who was born in Adelaide in 1877, but lived in England from 1905.
She toured the South East campaigning for the Women's Freedom League (WFL).
The society hopes a statue of Ms Matters can be erected in Hastings, East Sussex, where she lived for many years.
It would be cast from the same mould as a similar statue the society also wants to erect in Adelaide.
"We have chosen an Australian woman sculptor and will be talking to the council about finding a site in Hastings," said Ms Bedford, a member of the South Australia Parliament.
Ms Matters stood unsuccessfully as a Labour Parliamentary candidate for Hastings in 1924.
Later, she lived at 7 Pelham Crescent, where she is commemorated by a blue plaque.
Ms Matters is considered by many to be the first woman to have delivered a speech in the House of Commons, in 1908.
Women's vote efforts
She chained herself to the grille of the Ladies' Gallery, which separated women from the main chamber and had to be ejected, but carried on calling for votes for women.
"When I first came to Adelaide I received a little booklet about how Australian women helped British women win the vote and about Muriel Matters being chained to the Ladies' Gallery," said Ms Bedford.
"But I found no one knew anything about it so we are really trying to re-establish interest in her.
"We are keen to establish these links and to get people thinking about how much women had to do to get the vote and important it is to vote."
Ms Bedford is giving a talk at Hastings Museum and Art Gallery on 30 July and is also speaking in Aylesbury, Buckinghamshire and London.
Hastings Borough Council said the Muriel Matters Society intended to raise the money for the statue.
"If and when it has, the council would then discuss where it may go," said a spokeswoman.
"No definite decision about the site has been agreed yet."