Devon and Cornwall Police warn pet owners over hot cars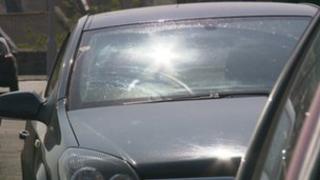 Pet owners are being warned not to leave animals in vehicles in hot weather after several incidents were reported to police.
The Devon and Cornwall force said it was alerted to a number of incidents over the weekend, when temperatures reached 30C (86F) in Exeter alone.
Officers said animal owners should be aware action would be taken if an animal was found in distress.
They added charges would also be brought if necessary.
Careful cooling
Ch Insp Ian Drummond-Smith, of Devon and Cornwall Police, said: "We will force open a car to try and save an animal's life, and the owner will have to foot the bill for the damage.
"We would also look to then build a case to bring a charge of animal cruelty or neglect."
Under the Animal Welfare Act 2006, offenders can be fined up to £20,000 or imprisoned for up to six months, the RSPCA said.
Vets said heat-related problems could be serious for pets.
Plymouth vet Nick Marsh said: "If they get too overheated, they can get diarrhoea, stomach upsets, or they can go into hyperthermia."
He said affected animals should be moved into the shade, given a little drink and carefully cooled down.
He said: "You don't want to cool them down too quickly because that can lead to shock.
"Don't hose them with cold water. The best bet is to damp down a towel, wrap that around them and change that every few minutes."
Temperatures were expected to remain in the high 20s until into the weekend, BBC Weather said.