Bestival A3 fatal crash: Coach tyre 'almost 20 years old'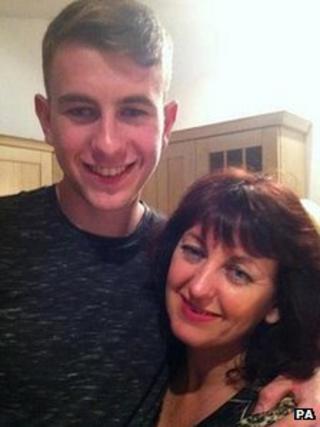 Three people returning from the Bestival music festival died after a coach tyre that was 19-and-a-half years old blew out, an inquest heard.
The 52-seat coach crashed as it headed north on the A3 in Surrey, travelling to Merseyside from the festival on the Isle of Wight last September.
Driver Colin Daulby, 63, and passengers Kerry Ogden, 23, and Michael Molloy, 18, were killed.
A tyre expert told the inquest the tyre that burst was "abnormally old".
The blow-out, on the front nearside tyre, made the coach veer to the left, mount the embankment, crash through a fence and into a tree just before midnight on 10 September.
The coach, which was operated by Merseypride Travel, was full of friends who had left Merseyside for the festival five days earlier.
Passengers spoke of waking up and seeing the tree looming before them as the coach went up the embankment.
The inquest heard many suffered serious injuries.
Mr Daulby, from Warrington, Miss Ogden, of Maghull in Liverpool, and musician Mr Molloy, from Woolton in Liverpool, died from multiple injuries.
'Falling apart'
Tyre expert David Price said several of the six tyres on the coach were old, with the tyre that burst being "abnormally old".
Another dated back to 2001 and the spare was 14 years old.
The burst tyre had a dot code giving its age and caused the accident as it finally failed, he said.
He said the tyre had been falling apart internally for months.
Mr Price said it was only half worn so had either been a spare or in storage for many years.
"This is one of the oldest tyres I have encountered failing," he said.
He said recommendations from manufacturers said tyres should not be fitted to cars if they are six years old, and should be replaced if they are 10 years old.
He said that this was not a legal requirement and that it did not apply to coaches or lorries, which was "frustrating".
'Struggling to walk'
Motorist Thomas Hughes said that as he had almost overtaken the coach, he heard a "very loud explosion".
His car swerved and was hit with debris that sounded like pebbles hitting his roof.
"I looked in the left-hand mirror because I thought I had blown a tyre and the coach was not there," he said.
Troy Walter was a passenger in a car behind the coach when it left the dual carriageway.
"There were a couple of people struggling to walk, there was debris on the floor," he said.
Janet Fields, who was driving Mr Walter, said in a statement: "It just left the road. There were no brake lights, no skidding - it just glided off the road and then up the embankment."
Mr Daulby was described as a safe and considerate driver who loved his part-time job with the company. Tests showed he had not consumed alcohol or drugs, the hearing was told.
The inquest, in Woking, Surrey, was adjourned until Tuesday.