Voters in Parliament Street criticise pay rise for MPs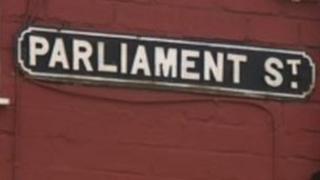 The proposed increase in MPs' pay has been criticised by the residents of Parliament Street.
No, I am not talking about an address in SW1.
I went to Parliament Street in Goole in East Yorkshire on the day the salary recommendations were unveiled by Sir Ian Kennedy, the chairman of the Independent Parliamentary Standards Authority (IPSA).
Parliament Street is 190 miles from Westminster, but it could be a million miles away when it comes to the views of some of its residents.
Some of the houses are worth less than £74,000 - the amount MPs would earn in 2015, according to the IPSA proposals.
I tried to explain to the good folk of Parliament Street that compared to other jobs with comparable responsibilities, our elected representatives could be described as underpaid.
But most people had made up their minds.
Helen, a hospital ward clerk, said: "It's ridiculous. I don't even get half that."
Phil, a council road sweeper, said: "They should not get a rise. A loaf of bread costs the same to them as it does to me. I'm 66 and still working."
MPs reluctant
Most of the MPs I contacted refused to get involved in the row.
Shadow Home Office Minister Diana Johnson said: "MPs have given this over to IPSA. It is nothing to do with MPs anymore. We won't be voting on this."
Speaking to the Sunday Politics in Yorkshire and Lincolnshire, the Labour MP for Hull North added: "There is a consultation and I hope the public will engage in that consultation."
One former Conservative MP said it was unrealistic to freeze MPs' pay.
Speaking to BBC Look North, Michael Brown said: "When I first got into Parliament in 1979 [in the former Brigg and Scunthorpe constituency], an MP's salary was £6,700.
"Never was a pay rise acceptable during those years, so MPs would still be earning £6,700."
The proposed pay rise has been criticised by the prime minister and remains a major talking point whether you live on Downing Street or Parliament Street.