Ambulance service warns sun revellers as temperatures soar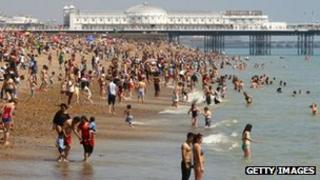 Soaring temperatures predicted for the south-east of England this weekend have prompted the South East Coast Ambulance Service to issue a warning.
With parts of the region set to reach 30C, people are being urged to keep safe and take extra care in the sun.
Last Saturday's weather caused a 25% rise in 999 calls, and the service said it was set for another busy weekend.
Calls linked to sunburn, dehydration and heat stroke could be avoided if simple precautions were taken, it said.
The service said high temperatures could also seriously affect people with heart conditions or high blood pressure, and they should be equally cautious during the hot weather.
Senior operations manager, James Pavey, said: "Last weekend was very busy and we're expecting this weekend to also be.
"Our staff will all be working extremely hard to meet the demand but we'd ask people to think about how they can help us.
"We know people are obviously going to be keen to get out and enjoy the sun while it's with us but we'd ask them to be sensible, cover up, use sun cream, drink plenty of water and use their common sense.
"By following our advice and also taking extra care of vulnerable people including the very young and elderly, people can hopefully avoid the need of having to call 999."