Surrey businesses raise fears over Heathrow future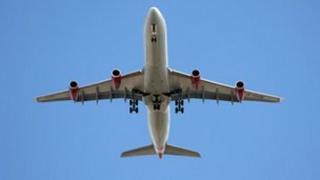 Companies could relocate from the area around Heathrow unless it remains the UK's hub airport, a businesses organisation has warned.
The Enterprise M3 Local Enterprise Partnership (LEP) said firms fear major job losses if the airport's status were to change.
Uncertainty over Heathrow's future may also lead to an exodus, it is claimed.
All proposals for increasing UK airport capacity are due to be submitted to the Davies aviation commission by 19 July.
Options submitted for increasing capacity include expansion of Gatwick in West Sussex, expansion of Heathrow, the building of a new hub airport in the Thames Estuary and greater use of existing regional airports.
'Unemployment risk'
LEP chairman Geoff French said key business leaders, who included senior managers from Skanska, Novartis Pharmaceuticals and Carillion, recognised proximity to Heathrow and Gatwick gave the area "real economic advantage".
He said Spelthorne borough in Surrey had 3,900 residents working at Heathrow, and a further 3,500 in jobs in related industries.
Nigel Milton, Heathrow policy director, has told the LEP the fastest and most cost-effective way to expand UK airport capacity is to expand Heathrow.
The airport is due to reveal its plans later this month.
Figures set out by Heathrow said more than 100,000 jobs in the area depended on it and moving the hub airport to the east of London would risk doubling unemployment in the airport's local boroughs.
But this week villagers in Stanwell Moor raised fears of planning blight amid reports that the airport could build a new runway in Surrey.
And in a separate development, politicians and business leaders from across the South East were told by Transport for London (TfL) that an expanded Heathrow would not be able to cope with predicted demand.
Richard De Cani, TfL's director of transport, strategy and planning, said the South East's economic needs would be best served from a new hub airport east of London, complemented by regional airports.