Chorley bat roost: Fine for developer was 'insufficient', says trust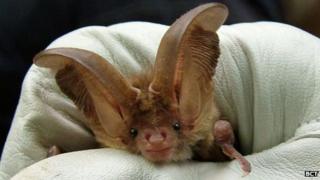 A £500 fine for a developer who admitted destroying a Lancashire bat roost was "insufficient", an animal welfare organisation has said.
David Dalton, 33, of Chorley New Road, in Bolton, pleaded guilty to destroying the brown long-eared bat roost at a property on Rivington Lane, in Chorley.
He was fined at Chorley Magistrates' Court on Monday.
Peter Charleston, of the Bat Conservation Trust, said the fine was "relatively light".
The maximum sentence for destroying a bat roost is six months in prison and/or a £5,000 fine.
"There are very few prosecutions for bat-related offences heard by the courts, [with] a typical year seeing two or three across the UK," he said.
"We would argue that this latest fine of £500 is an insufficient deterrent to those potentially unscrupulous property developers out there.
'Very important sites'
"The message the court needs to be sending is that rare British wildlife needs protection.
"We would suggest that magistrates need to reassess levels of appropriate penalty."
People wanting to work on buildings with bat roosts require special licences before work can be carried out.
Lancashire Constabulary's wildlife crime officer Mark Thomas said: "People can't just start carrying out building renovation work and think they don't have to have the correct surveys and licences to cover the work they intend to do.
"The reason they have to do this is to protect certain species, in this case bats and their roosts."
Mr Charleston said roosts were "very important sites for conservation".
"The loss of bat roosts is thought to be one reason why bat populations declined dramatically in the 20th Century," he said.