Huddersfield Town and Hull City praise fans' action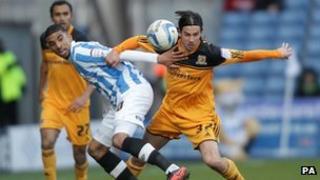 Two football clubs have praised the "diligence" of fans who fought travel restrictions imposed by West Yorkshire Police.
Police imposed the restrictions ahead of a Championship match between Huddersfield Town and Hull City.
The force limited tickets for Hull City fans and made them travel on official coaches to the game, in March.
In a joint statement, the clubs said the fans' protests exposed the "flawed decision-making process" of police.
West Yorkshire Police had been warned it could be acting "irrationally" by imposing the travel restrictions, emails seen by the BBC showed.
'Swept under carpet'
The statement issued by the clubs said: "It has become abundantly clear that West Yorkshire Police were pursuing a specific agenda in their unwarranted imposition of the travel 'bubble'.
"Without [the fans'] perseverance, it is likely that West Yorkshire Police's counter-intuitive approach to this game would have simply been swept under the carpet.
"Police's counter-intuitive approach to this game would have simply been swept under the carpet.
"Thanks to the fans' continued indignation over a lack of consideration for away supporters, this has not happened, and West Yorkshire Police's flawed decision-making process has been exposed."
The clubs also welcomed the review of the police's decision by West Yorkshire's police and crime commissioner.
Mark Gilmore, West Yorkshire's chief constable, said he shared the concerns raised by the commissioner.
He said: "I have asked for an operational peer review of the planning, decision making and public safety arrangements for the game."
Mr Gilmore said it would identify how to maintain public safety without "disproportionate or unnecessary inconvenience to the public".
At the time, police claimed starting the Huddersfield Town v Hull City game at 17:20 GMT, to enable live TV coverage, raised the risk of alcohol-related disorder. It led to additional measures were put in place.