Stanwell Moor meeting over Heathrow 'blight fears'
3 July 2013

From the section

England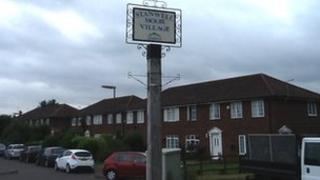 A public meeting has been held amid reports that a Surrey village could be the site of a new Heathrow runway.
Kathleen Croft, from Stanwell Moor residents association, invited a Heathrow representative to speak after a report in the Evening Standard.
Heathrow would not comment on the plans but is due to reveal its plans later this month.
Proposals for airport capacity are due to be submitted to the Howard Davies aviation commission before 19 July.
Several options have been put forward for increasing aviation capacity including expansion of Gatwick in West Sussex, expansion of Heathrow, the building of a new hub airport in the Thames Estuary, and greater use of existing regional airports across the South East.
'Real facts needed'
Ms Croft said people in Stanwell Moor were worried about blight and added: "My concern was that we didn't want to turn into another Sipson."
Land in Sipson, in west London, was originally earmarked for a third runway at Heathrow and airport operator BAA stepped in to buy houses that became "unsellable".
Surrey County Councillor Robert Evans, who represents Stanwell and Stanwell Moor, said: "Until we know what the options are, until we know what Heathrow Airport want, and indeed until the government decide what they are going to back, it is going to be very difficult for people to move on with their lives."
He said many local residents worked at Heathrow and its future was important but added: "People here want real facts, real information."
Mr Evans said even though plans would be unveiled on 19 July, government decisions would not be made until 2015.
"All of this is creating uncertainty and I can well understand why people here are pretty distressed," he added.
Heathrow 'can't cope'
Alex Tribick, from Spelthorne Business Association which has backed Heathrow expansion, said blight fears were inevitable for people living near a major airport.
He said if Heathrow was deemed fit for expansion, the area was one of the major contributors to its workforce.
A spokeswoman for Heathrow said the airport's plans would be would be issued on 17 July and residents would be briefed on 18 July.
In a separate development, politicians and business leaders from the South East were told by Transport for London on Wednesday that an expanded Heathrow would not connect the region to global markets and would be unable to cope with predicted demand.
Richard De Cani, director of transport, strategy and planning, told the meeting in Tunbridge Wells, Kent, that the South East's economic needs would be best served from a new hub airport east of London, complemented by regional airports.