Police helicopters in the South West join new service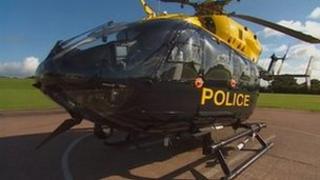 Police forces in the south-west of England have joined a new National Police Air Service (NPAS) which is replacing local police force helicopters in England and Wales.
The forces of Devon & Cornwall, Dorset and Avon & Somerset each had their own aircraft, but the three are now part of the national service.
The aircraft would remain in Devon, Dorset and Bristol, the forces said.
All forces in England and Wales will join NPAS by January 2015.
The Gloucestershire Constabulary, which shares a helicopter with the Avon and Somerset force, has also joined the national service.
Wiltshire Police are expected to join in January 2015.
The new air service, launched in October, is replacing police helicopter operations for 43 forces, operating 25 aircraft from 23 bases.
The government said the reorganisation would mean more aircraft could be kept available by national co-ordination of deployment and maintenance.
However, at the time, critics said they feared aircraft crews would be stretched and any slower response times could endanger lives.
So far, police forces in the south-east, north-west and north-east of England have joined NPAS, which is nationally expected to save £15m a year.