M6 Toll: Haulage firms start free lorry trial for July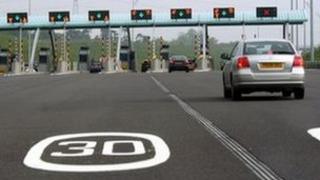 About 450 haulage firms have joined a trial scheme that will see them use the M6 Toll road for free for a month.
Operator Midland Expressway Limited (MEL) agreed to let members of the Road Haulage Association (RHA) access the route free of charge throughout July.
The RHA said about 7,500 lorries were registered for the trial to measure if using the road benefits businesses.
The M6 toll links junction 11a of the M6 near Cannock, Staffordshire, to Junction 3a at Coleshill, Warwickshire.
It opened in 2003. Lorry operators currently pay £11 every time they use it.
Many of these drivers have been issued with cards so they can drive past the toll booths.
Nick Payne from the RHA said: "We agreed a month's trial to see whether or not we can prove to the hauliers there's a cost saving and a time saving... the margins in the haulage industry at the moment are so narrow that any saving is a bonus."
John McGoldrick, from the National Alliance Against Tolls, said: "There's nearly half a million lorries on Britain's roads so the effect on the traffic on the old M6, as it were, the non-toll one, which carries 175,000 vehicles a day, will be almost invisible."