Hinkley C nuclear plant 'enormous business opportunity'
29 June 2013

From the section

England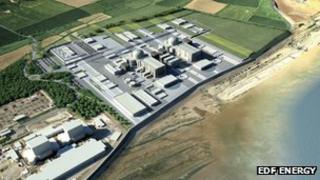 A new nuclear power station in Somerset could generate millions of pounds for businesses across the South West, a business leader has said.
Earlier this week the government said it would underwrite investment in the new Hinkley Point C plant.
Tim Jones, chairman of the Heart of the South West Local Enterprise Partnership, said it presented "enormous opportunities".
Mr Jones said companies in Devon, Cornwall and Somerset could benefit.
'Number crunching'
"It's bigger than the Olympics - a £14bn programme - and 80% of that cost is in the 'civils' contract, so it's not specialist nuclear activity," he told BBC News.
"In there is a great opportunity for local businesses in Plymouth, across Devon, Cornwall and Somerset to get involved in it as part of the supply chain.
"There's also a great opportunity during the construction of the facility - there's a requirement for 6,000 workers over a 10-year period."
Nuclear 'skills academy'
In March Energy Secretary Ed Davey announced he was granting planning consent for French energy giant EDF to construct Hinkley Point C which will be capable of powering five million homes.
Mr Jones said the South West was privileged to have such a project on its doorstep, adding that "pretty good number crunching" had shown the benefit to the economy would be about £5bn.
With numerous firms "well suited" to become contractors, strong links with the Royal Navy and keen interest from local colleges and universities, Mr Jones suggested Hinkley C gave the South West an opportunity to develop a "nuclear skills academy".
"We're going to be building at least another six nuclear power stations - unless there's a very big change in government policy," he said.
"So setting up an academy, recognising that the far South West has that skill set and ensuring we build off the nuclear opportunity that Hinkley brings us, is something that I think could put us on the national stage very quickly.