Funding 'victory' for A21 widening campaigners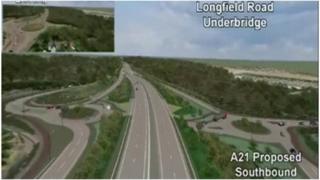 Supporters of plans to widen a bottleneck on the A21 in Kent have claimed victory after the government announced it would provide funding.
Treasury Minister Danny Alexander said £92m would be available to widen the road between Pembury and Tonbridge.
"It is a victory for everyone who has campaigned to get this nightmare stretch of road sorted out," said Tunbridge Wells MP Greg Clark.
The result of a public inquiry into the widening plans has yet to be announced.
Business leaders are among those campaigning for the widening of the main coast road to Hastings in East Sussex, which carries more than 35,000 vehicles every day.
They told the public inquiry in May the 2.5 mile bottleneck needed to be upgraded.
Gatwick improvements
But The Woodland Trust said the scheme would damage 400-year-old woodland containing more than 1,000 species of fungi, 10 species of ladybird and 24 species of bee.
The A21 was one of several transport schemes guaranteed funding by Mr Alexander, including improvements to the Gatwick junctions of the M23 in Surrey and Sussex and the A27 Chichester bypass in West Sussex.
Announcing the government's infrastructure plans on the day after its Spending Review, Mr Alexander said the A21 money would be available from 2015.
Conservative Mr Clark said if the public inquiry gave the go-ahead for the A21 widening, people could look forward with confidence that it would go ahead.
"The A21 dualling scheme has had a number of set-backs over the last decade," he said.
"This is a fantastic day for residents, businesses and visitors throughout West Kent and East Sussex."
Kent County Council leader Paul Carter said: "A welcome end to the congestion suffered for so long by so many local residents and businesses is now in sight."