Isles of Scilly helicopter link 'needs government subsidy'
27 June 2013

From the section

England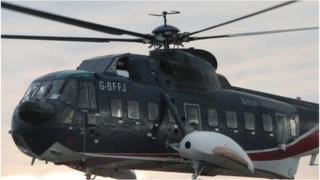 The new owner of Exeter Airport has said he would like to restart helicopter flights to the Isles of Scilly.
Sir Peter Rigby's Rigby Group owns British International Helicopters, which ended the service last October.
Sir Peter said the route could be reinstated, but only with government support.
The last flight from Penzance to the islands ended more than 48 years of the helicopter service.
Rigby Group bought Exeter Airport, which has seen a fall in passenger numbers, for an undisclosed sum.
'Peripheral things'
When it stopped the helicopter link, BIH cited rising costs and falling passenger numbers.
Sir Peter said: "I think there is a case for a helicopter link to the Scillies. I do think however that it needs government support.
"As a commercial entity it's not in itself viable in my opinion.
"If there was government support then I would look at re-establishing the link."
In the meantime, he said he was concentrating on BIH's existing contracts with the Ministry of Defence.
He said: "We want to settle that business into our group before we start charging around and doing peripheral things."