Gloria Foster death: MP urges council to 'come clean'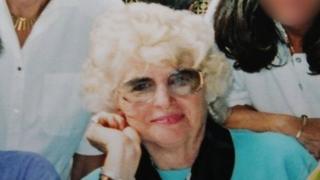 A former care minister has called for Surrey County Council to "come clean" over the death of a pensioner left for nine days without food or medication.
Gloria Foster, 81, of Banstead in Surrey, died in February after her care agency shut with no replacement, following a raid by authorities.
Local MP Paul Burstow said her death was a scandal and Surrey had to be very open about the lessons they had learnt.
The council said an independent inquiry would be published "within months".
In May, Surrey Police said they had decided not to bring criminal charges over the case following advice from the Crown Prosecution Service.
The Surrey Safeguarding Adults Board is carrying out an independent review of Mrs Foster's death, but the former leader of the county council Dr Andrew Povey has previously accused it of meeting in secret.
'Out of sight'
Mr Burstow, Liberal Democrat MP for Sutton and Cheam, said: "I think it's very important that there is transparency around these sort of processes because part of the issues that this serious case review has to get to the heart of are about the local authority's own processes.
"That may mean following a trail of evidence to places that could be embarrassing for the county council. I don't know that's the case so it's very important that the panel's details are in the public domain."
He added: "Sometimes people say homecare is where the next big scandal will occur. I think tragically Gloria Foster is that big tragedy, a lady who was receiving care in her own home, out of sight and it would appear out of mind as well."
"That is just not acceptable. It's where the regulator has a role to play to make sure that companies have a plan that is actioned in the event that they are closed down."
Mrs Foster was found at home by a district nurse and died in hospital. The cause of death was found to be pulmonary thromboembolism and deep vein thrombosis.
She was suffering from dehydration and starvation after going without the four daily visits she was due to have.
Care agency Carefirst24 in Sutton, south London, was shut and six people were arrested after it was raided by UK Border Agency and the Met Police on 15 January as part of an investigation into suspected illegal workers and fraud.
In a statement, Surrey County Council said: "An independent investigator is completing a review of how all the agencies involved handled this case and the findings will be published within months."