Cheshire PCC youth ambassador: Dominic Rogers appointed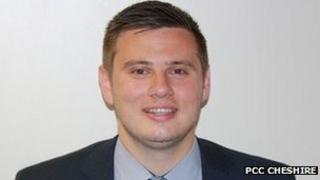 Cheshire's police and crime commissioner has appointed a £25,000-a-year youth ambassador.
Dominic Rogers, 23, from Wilmslow, will start the job on 15 July.
He said: "Last year in Cheshire, 2,700 victims of crime were young people, who we can learn from to improve policing and make young people feel safer."
Cheshire PCC John Dwyer said the ambassador would work alongside the police to tackle issues including drug and alcohol abuse and internet safety.
He said the role was not the same as teenager Paris Brown's controversial position as Kent youth PCC, a post from which she resigned after a furore over messages she had posted on Twitter.
Mr Rogers said he had three years' experience of working with young people, including working as a teaching assistant for children with special needs.
"At 23 I've gathered enough life experience that I can offer advice and get respect from young people, so although I am slightly older I can still relate to them, which is important," he said.