Should Osborne use spending review to boost the North?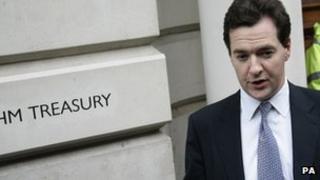 We're told the chancellor will focus on investing in road and rail infrastructure in the 2013 spending review.
George Osborne is also apparently keen to generate jobs in the English regions.
He might then want to take a look at the North East.
It has seen unemployment rise over the past three months, and the current rate of 10.1% is the highest in the UK.
And there is no shortage of potential infrastructure investment projects on offer.
Economic case
Top of the list according to the North East Chamber of Commerce is the A1 in Northumberland.
Anyone who's travelled on that section of the London-Edinburgh route will know that there are several stretches of single carriageway.
Many have made a safety case for dualling those sections, but North East businesses also believe there's an economic case that should make the chancellor take notice.
Hardy and Greys is one firm keen to see an upgrade.
The company has made fishing equipment in Alnwick, close to the A1, since Victorian times.
It's now an international business, but it has to use what it sees as an inadequate road network.
Operations director Dave Douglas said: "If you're looking to invest in Northumberland at the moment, you'd be worried about the A1.
"If it was dualled, you'd worry less. It would provide an enormous boost for the county, the regional economy and North East business generally.
"While we appreciate this would be a lengthy project, the preparatory work should begin as soon as possible to enable a swift start to work when full project approval is secured."
But campaigners have been pushing for improvements on that section of the A1 for decades now with limited success - partly because it largely passes through a sparsely-populated rural area, even if it does connect Newcastle and Edinburgh.
Passenger service
So if the A1 doesn't end up ticking George's boxes, maybe railways might hit the spot.
The Leamside Line used to connect Tyneside to South Durham, but it hasn't had a passenger service since the 1960s, and the last freight train ran in 1991.
Last year the rails were largely removed, but campaigners believe the time is right to revive the line.
One unlikely champion is 17-year-old Jem Cutter from High Shincliffe, near Durham. He's grown up next to the line, even if he's never seen a train pass along it.
As a small child, he was baffled by the lack of trains, and today he's set up a Facebook campaign to try to get it reopened.
He believes it could help the local economy in several ways.
For a start it could be used for freight and ease congestion by getting thousands of cars and lorries off the roads.
But it could also help employment in an area which has struggled to recover from industrial decline.
Jem told me: "A feasibility report done a couple of years ago said there'd be possibly 2,000 passengers per day using the line.
"There'll be more trains needed, there'll be people needed to run them, and man the stations, run the signalling, and it could boost local shops so it benefits in many ways."
But it would be a stretch to suggest the Leamside Line is shovel-ready - and that's the kind of project the chancellor wants to see.
Hundreds of jobs
A better bet perhaps might be plans for a conference centre on the banks of the Tyne in Gateshead.
Sage Gateshead already attracts gatherings like last year's Lib Dem spring conference. But there is a plan for it to attract more.
A proposed £30m expansion could bring in another 75 conferences a year, creating hundreds of jobs and pumping millions into the local economy.
The catch - so far all the funding hasn't been secured. It could be an easy hit for the Chancellor, but he might wonder why such a racing certainty hasn't managed to secure private sector support.
And perhaps we should stop thinking of infrastructure purely as tarmac, bricks and mortar.
For modern businesses, the speed of their broadband connection can be more crucial than the speed they can travel to work.
The E-volve business centre in Rainton Bridge near Sunderland has lots of new technology businesses benefiting from the latest fibre optic links and superfast broadband.
The tenants include 4th Aspect which helps companies market themselves on the web.
Husband and wife team Claire and David Glynn now employ five people and are growing fast.
They believe the North East could have a bright future if more companies had access to the top broadband speeds.
Mr Glynn said: "If we look back even 20 or 30 years we had really good manufacturing and natural resources in the North East, now much of that has gone.
"We need to replace it, and I think this is the technological revolution now. The North East needs to take advantage of that and become a great region again."
So roads, rail, buildings and broadband all offer possible investment opportunities for a chancellor looking to get growth going.
But will he choose to take them, and has he got enough spare money to fund them? We should find out on Wednesday.