RAF civilian staff go on strike in pay dispute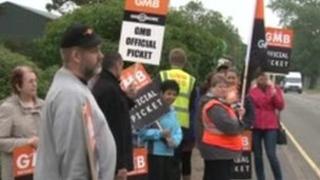 Civilian staff at five RAF stations across England are striking in a dispute over pay.
Workers employed by ISS at Cranwell, Scampton and Kirton-in-Lindsey in Lincolnshire and Cosford and Shawbury in Shropshire are taking part in the 24-hour walk-out.
They have been joined by Unite and GMB members from three stations in Wales.
ISS, a food and cleaning services provider, said RAF operations would not be affected by the day of action.
The unions said 240 of their members, who work as chefs, cleaners, receptionists and in other civilian roles, had rejected ISS's offer of an 8p-an-hour pay rise and an increase of 2p-an-hour for those on the national minimum wage.
Mike McCartney, Unite national officer, said: "GMB and Unite have written directly to the company to place on record our willingness to meet at any time or place should ISS wish to enter into meaningful discussions with a genuine view to averting a strike and addressing our members' aspirations on pay and the wider workplace environment."
Sian McClarence, from GMB, said members felt ISS had treated them with contempt.
"I don't doubt there will be further action until they come back to the table and have some meaningful negotiation with us," she said.
'Above average' rises
ISS said it was "disappointed" 120 of its 3,000 staff at RAF sites had rejected the offer of a 1% pay increase and had decided to walk out.
In a statement, it said: "Our offer is consistent with pay offers made to the armed forces (and the public sector in general) and reflects the pressure on public sector funding.
"Those who have voted for strike action have enjoyed pay increases above the average in recent years and far in excess of those received by other public sector workers, including many of the armed services personnel they support."
The RAF says the strike is a matter for ISS, which is responsible for the continuation of service delivery at the affected stations during the strike.