Delay over Norfolk incinerator decision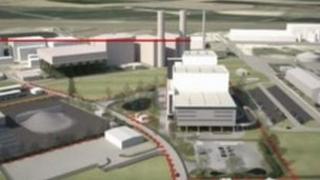 So are we any closer to having an incinerator built in King's Lynn or not?
Although they'd promised voters an early decision if they were elected, councillors in Norfolk decided to postpone a vote on the subject until they have a clearer idea of how much it'll really cost to get out of the contract with the developers.
That's bound up with the decision of the Secretary of State for Local Government - Eric Pickles - who will be making his mind up on whether or not to grant planning permission to the scheme later on this year.
"This whole business has been going on for four years, we've only been in office for six weeks", said UKIP deputy leader Stan Hebborn. "We have to make a decision that's in the best interests of the people of Norfolk and if it takes a bit longer, we will have to do that."
Alternative waste plans
The council has ordered an independent audit of the confidential 1,000-page contract. It wants to see if their officers are correct when they estimate that withdrawing from the project could cost £90m in compensation payments.
It's also asked staff to look into alternative ways of dealing with Norfolk's waste.
Opponents of the incinerator are convinced things are moving their way. "Now we can begin a proper debate on whether to go for the project or whether council officers can procure a cheaper way to get rid of our waste," says Conservative councillor, John Dobson.
Henry Bellingham, the Conservative MP for King's Lynn, told Radio Norfolk that he believes the incinerator is closer to being scrapped than ever before.
They are banking on Eric Pickles rejecting the scheme and the independent audit finding an easy and cheaper get-out clause but it's by no means a safe bet.
Economic argument
The Local Government Secretary may well have his doubts about whether the concerns of local people were taken into account and we can be sure that Norfolk's MPs will lobby very hard on this issue.
Nevertheless, the economic argument for the incinerator is still a strong one: it would save the council £200m in landfill costs over 25 years, it could create several hundred jobs and power two towns the size of King's Lynn.
Despite the protests about a lack of scrutiny, the courts found that the last administration followed the correct procedures. DEFRA has also examined the proposal on several occasions and while it has dropped other schemes around the country, it's found nothing wrong with the Norfolk plans.
Financial penalties
Then there's the cost of pulling out. Even if Eric Pickles rejects the scheme, the council could still find itself with a bill for £35m. That would be a big financial hit.
The independent audit of the contract may come up with a lower estimate of costs but when other authorities in the country have ordered reviews, the reports have concluded that the officers were more or less right.
"We have several years of cuts on the way as it is and they will be hard enough because the easy stuff has already been taken out," says one council official. "Anything extra - even if it was at the lower end of expectations - would cause us real problems."
And the hard-pressed council would probably also lose its PFI credits - worth an extremely valuable £169m.
It is interesting to note that Labour has started briefing that it never promised to scrap the incinerator during the local elections. It only said that it would use all legal means to try to get out of the contract.
There may be a majority on the council opposed to the incinerator but it is very possible that the financial reality of pulling out may force some of them to swallow hard and allow it to go ahead.
There is a very strong political will in Norfolk that this incinerator is unpopular and should not be built. "The people have spoken and they must be listened to," says Henry Bellingham.
But at the moment it is by no means clear whether they will be or whether it's already too late.