Call to stem invasive balsam and knotweed spread
16 June 2013

From the section

England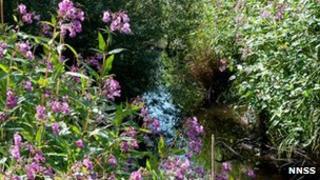 Volunteers are being sought to help stem the spread of invasive plant species in north-east England.
Himalayan Balsam and Japanese Knotweed were imported for Victorian gardens, but are now widespread in the wild and crowding out native plants.
The WildWatch project has been set up to monitor the problem.
Members of the public are being urged to report sightings particularly in the higher reaches of the Tees, Wear and South Tyne tributaries.
Project co-ordinator Sam Finn said: "Alerts to any new troublespots will be very helpful.
"Postcard survey forms are being distributed throughout the North Pennines to supplement records added to the website.
"We're hoping that this big push will help us get a really good idea of problem areas to enable us to control the spread."