Peter Georgiou: By-election as councillor steps down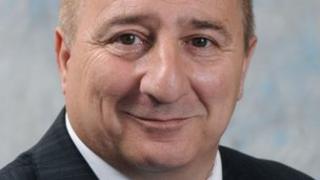 It hasn't taken long for the first UKIP casualty to cause a by-election.
Five weeks after Peter Georgiou was celebrating his win in Thetford West, he's standing aside.
Not only did he win by the narrowest of margins - a single vote - but winning his seat elevated UKIP to the main opposition on Norfolk County Council.
The resignation follows revelations Mr Georgiou had been questioned for shoplifting last year.
He has said that he was taking medication at the time and had since apologised. He later paid for the items and no further action was taken.
Mr Georgiou was new to politics but in just a few weeks he's learned how cut-throat a business it can be.
The intense public scrutiny has taken its toll and Mr Georgiou has decided to go, prompting a key county by-election.
When the story of his shoplifting first broke Mr Georgiou told us that the publicity had deeply affected his wife and family. "I've lost everything that I hold dear," he said.
He told us that he enjoyed being a councillor, helping people with their problems and thought he was making a difference.
Toby Coke, leader of the Norfolk County Council UKIP group, said: "Peter has been persistently harassed over matters relating to his past that in no way prevent him from carrying out his duties as a county councillor.
"However, the constant attention from political opponents and the media has had a very detrimental effect on his morale and placed great strain on his family."
UKIP members are complaining about dirty tricks. Stan Hebborn, UKIP's deputy leader in Norfolk, said: "As a party we have shocked a few people and given them bloody noses."
They may have a point but the reality is that the party is now a major player in British politics with its policies and politicians coming under the sort of scrutiny they've never experienced before.
With the Euro and 2015 general election ahead that scrutiny will continue. Meanwhile there will be a by-election in Thetford West in the not too distant future.
Terry Jermy, the defeated Labour candidate, said: "This is sad for Mr Georgiou and his family but he's done the right thing.
"I am pleased that scrutiny of UKIP policies and candidates that was so lacking prior to the election is now taking place to some degree."
Labour was convinced it had won the seat last time and will fight hard to increase its tally on the council that it is now running in coalition with the Lib Dems.
But the latest district by-election in Norfolk has just returned another UKIP councillor in King's Lynn and I wouldn't like to put money on the outcome of this contest.