Meeting the UKIP members who want to transform politics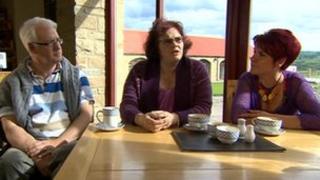 David Cameron once described them as "fruitcakes and nutters", Ken Clarke called them "clowns" but you can bet they are now both taking UKIP seriously.
For one thing, as the traditional political parties struggle to attract new supporters, UKIP party membership is growing substantially.
But given UKIP have no MPs and little immediate prospect of government, why are people prepared to sign up?
I went to a tea room in North Yorkshire to try and find out from three recent recruits.
It's a county where UKIP is beginning to make an impact, taking two seats at the recent county council elections.
Local membership is now above 350, and branch secretary and betting shop manager Claire Palmer tells me she's getting three or four enquiries a week from potential new members.
And some - like Claire - have never been members of a political party before.
She says many like her are attracted by the party's stance on Europe but then find a lot more to like.
One of those new recruits is florist Stephanie Todd, who was a Conservative councillor until she switched to UKIP in April.
She said: "As a councillor and working with the public, I saw that UKIP fitted with the people of this country, especially where I live.
"They just understand and they're right, it's just common sense."
Businessman Tony Flinn has been both a Labour councillor and a Conservative Party member, but now believes UKIP is his natural home.
He said: "Joining UKIP wasn't a negative thing, it wasn't a reaction to the established parties.
"It was because UKIP had something to say, policies I believed in, and I think they're offering something new."
Career politicians
But it is clear many of their views - euroscepticism, a belief in small government, antipathy to wind farms - do sound a perfect fit for the Conservatives.
Yet they are clear, they don't like David Cameron's Conservative brand.
Tony said: "The current leadership of the Conservative Party seems to have all been to Eton; they've all been career politicians, and don't have any real experience of life.
"I wonder how they can really understand what the problems are when they've never had to work for a living."
Stephanie added: "They just don't relate to people, and you've got to relate to people to really understand what's going on in their lives, to improve things. That just hasn't happened."
But isn't there a danger that UKIP could end up hitting the Conservatives so badly, that the result in 2015 might be a pro-Europe Labour government?
That's certainly what UKIP's critics say, but the three North Yorkshire members do not believe a vote for their party will be wasted. They also reject the idea that UKIP's success is built purely on protest votes.
Claire said: "I don't think the word protest vote should apply to UKIP anymore, that's just a get-out for Conservatives, Labour and the Lib Dems.
"Four or five years ago, maybe but not now. People are voting because they're listening and have heard what we want to achieve."
Tony added: "It's irrelevant whether we get a prime minister or into government, we believe we're right, and that's as far as we need to go to justify ourselves."
And despite recent poll successes, getting UKIP into government does look like a long haul. All three though are determined to stick with their chosen party.
Claire said: "I've put too much time and effort into making this work to walk away."
Stephanie agreed: "I was married to the wrong man for a few years, in the form of the Conservative Party, but now I'm with the party that's right for me."
It's too early to say whether the UKIP phenomenon is a temporary or permanent one. But what you can't ignore is its ability to recruit new people.
The three members I met in North Yorkshire believe that's because there is a big shift happening in UK politics - something permanent.
Something, they say, that should be concerning the clientele of another traditional tea room hundreds of miles away in Westminster.