Health secretary: 'Full confidence' in heart unit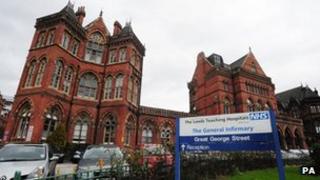 The health secretary has said he has "full confidence" in the children's heart surgery unit in Leeds.
Jeremy Hunt's comments come after operations at the unit were suspended for several days over health concerns in April.
He is due to make a decision shortly on the future of the unit as part of a review which could mean its closure.
Yorkshire MPs and the families of patients at the unit have been campaigning to save it.
NHS England's medical director, Sir Bruce Keogh, had suspended procedures at the unit after receiving data that suggested a higher mortality rate than the national average.
An investigation revealed the data was flawed and operations were allowed to resume.
'Safety concerns'
The Conservative MP for Pudsey, Stuart Andrew, told Mr Hunt the unit had come under much more scrutiny than the other units threatened with closure.
Mr Hunt told MPs at health questions in the Commons: "I do have full confidence in the children's heart surgery at Leeds. I know they do an excellent job.
"You will understand that when there are safety concerns they do have to be investigated. But I'm delighted those issues have been resolved and surgery is continuing."
A review of specialist heart surgery units for children was launched in 2009.
It decided the surgical units should be concentrated in fewer hospitals and announced the closure of units at the Leeds General Infirmary, Glenfield Hospital in Leicester and the Royal Brompton in London.
The decision sparked legal challenges by campaigners fighting to save the threatened units and further reviews, with final decisions still pending.