John Prescott says wind farm curbs are 'Nimby' victory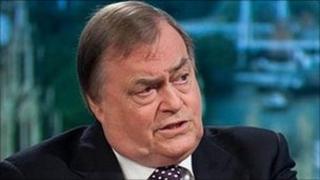 Former deputy prime minister Lord Prescott has described a move to give local communities more power to block wind farm applications as "a victory for Nimbys".
New planning guidelines in England will see residents given a greater say over the siting of new onshore wind turbines.
Householders will also see a five-fold increase in the benefits they receive from developers, such as cheaper energy bills or money for community-based facilities.
In an interview for the Sunday Politics in Yorkshire and Lincolnshire, Lord Prescott claimed the policy was designed to win Conservative votes in shire counties.
"What they are trying to do now is say build them in urban areas, not in rural areas, where they might spoil the pretty view [for] bank managers," he said.
"It's a victory for Nimbys. Nothing to do with energy policy and nothing to do with climate change."
Lord Prescott was in charge of Labour's policy on the environment in Tony Blair's first term in government and played a key role in the Kyoto negotiations on climate change in 1997.
Planning battles
However, an influential Conservative minister has insisted that national energy targets should no longer override local opposition to wind farms.
Speaking to BBC Look North, former energy minister John Hayes said: "No should mean no. If the developer goes to appeal, the planning inspectorate cannot use energy policy to trump local opinion."
I spoke to campaigners in North Lincolnshire, who have been fighting plans for a new wind farm development near the town of Winterton.
They were broadly supportive of the government's proposals, but many believed the odds were stacked in favour of the wind energy industry.
Energy Secretary Ed Davey has insisted the government remains committed to "appropriately-sited onshore wind" as part of a diverse, low-carbon and secure energy mix.