Sir James Paice: 'Treasury doesn't understand farming'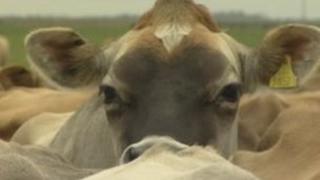 There can be few politicians who understand the world of farming better than Conservative Cambridgeshire MP and farmer Sir James Paice.
That's why he's played a key role in overseeing agriculture at Westminster for the best part of 24 years.
First he was a member of a backbench horticulture committee, then a Parliamentary private secretary, a shadow minister and finally Minister for Agriculture; a post he held for for two-and-a-half years before being moved in last year's reshuffle.
After all that time he makes a rather damning observation: a large number of people in government do not understand farming.
It's a comment which many in the industry have made on numerous occasions but this is from someone who has been at the heart of it all.
Main culprit
"I think it's true - I have little doubt that there's a huge section of government that does not understand farming and has certainly not kept up to speed with the changes."
He says the main culprit is the Treasury.
"Some of the rhetoric is still about surpluses, wanting to cut production and farmers being subsidised.
"They haven't caught up with the fact that the last CAP (Common Agricultural Policy) round actually stopped subsidising production altogether.
"Farmers get nothing now that's linked to how much they produce. They get a flat rate payment - it's not subsidised production but the rhetoric hasn't caught up with reality."
His worry is that British farmers will lose out in the latest round of CAP negotiations because those involved in them are not prepared to fight for farming.
'Precious resource'
Already France has gained an extra £1bn for its farmers. The latest figures suggest that already our farmers receive less per hectare than many European colleagues.
"I fear those decisions were taken at the behest of the Treasury rather than driven by what's in the best interest of British farmers and consumers," said the MP for South East Cambridgeshire.
The negotiations are continuing and Sir James still hopes for a decent deal - but he's worried that once again we'll lose out.
It begs the question - if he's failed to get farming taken more seriously at Westminster, what more can anyone else do?
"I think they'll be forced to change in the coming years. We are seeing this whole change in the world with increasing global population coupled with climate change, which is going to make food a precious resource.
"Every country is going to have to have to do its bit - and I think the government is going to have to realise that this is a pretty critical industry for everybody. We've got to feed our people".